Standard and non-standard Kammprofile Gaskets
Kammprofile Gaskets provide exceptional reliability in difficult applications. Kammprofile Gaskets accommodate standard ASME/DIN/BS flanges as well as non-standard flanges including lighter weight flanges, valves, pumps, flanges, heat exchangers and vessels. Kammprofile Gaskets are also an excellent choice for old, worn heat exchangers originally designed for jacketed gaskets. The Kammprofile handles pressures from full vacuum to the maximum rating of the flange and withstands temperatures from cryogenics to 2000°F / 1090°C, depending on sealing material and metal core.
Properties & Application
| | | |
| --- | --- | --- |
| RS3-PN | | selected for use in confined locations, including male and female, tongue and groove, and recessed flange arrangements |
| RS3-ZG | | graphite or PTFE surface over grooved gasket with intergral solid outer ring for nominal pipe size and pressure |
| RS3-ZA | | a slight variation of the style RS3-ZG. The integral outer ring is replaced by a loose fitting independent ring which is preferred where flange differential radial thermal expansion may be encountered. These rings may also be spot welded. |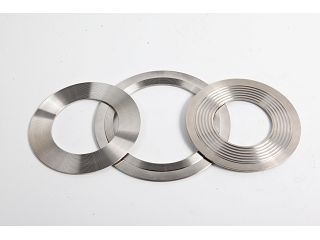 | | |
| --- | --- |
| Core Material | Max. Temperature |
| Stainless Steel | 1000 - 1600°F (535 - 870°C) |
| Carbon Steel | 800°F (425°C) |
| Brass | 500°F (260°C) |
| Copper | 600°F (315°C) |
| Aluminum | 800°F (425°C) |
| Monel | 1500°F (815°C) |
| Nickel | 1400°F (760°C) |
| Inconel | 2000°F (1100°C) |
Facing Material

Max. Temperature

Pressure at Room Temp






Min. Mpa (PSI)

Max. Mpa (PSI)

Flexible Graphite

500°C (932°F)

17 (2500)

500 (72500)

Non-asbestos Sheet

400°C (752°F)

23 (3300)

500 (72500)

PTFE

260°C (500°F)

17 (2500)

500 (72500)
Features and benefits:
1.Seals less-than-perfect flanges to form a tighter connection
2.Performance replacement for jacketed heat exchanger gaskets
3.Fire safe—passed API 6FB fire tests
4.High temp applications above 850°F (454°C)
5.Solid metal core resists cold flow, over compression, and blowout
6.Rigid core provides exceptional stability, even in large sizes, and facilitates handling and installation
7.Available in wide variety of metals
8.Seals under low stress—ideal for lighter weight flange designs
9.Withstands extreme fluctuations in temperatures and pressures
Specifications
Products are manufactured in accordance with all relevant gasket standards to suit flange designations: ASME B16.5, BS1560, ASME B16.47, BS EN1092, DIN, JIS and NF.
If you are interested in our products, please contact us, we will reply as soon as possible.
Our target of service is to satisfy your requirements.