BX type Ring Joint Gaskets
Rilson manufactures and supplies a large variety of ring joint gaskets. The RTJ standard size gaskets are manufactured in accordance to API-6A and ASME B16.20 specifications. Rilson is licensed by the American Petroleum Institute (API).
BX type Ring Joint Gasketsfor API 6BX Flanges
The BX ring gasket differs from the standard oval or octagonal shape since it is square in cross section and tapers in each corner. All BX ring type joints incorporate a pressure passage hole to allow for pressure equalization each side of the sealing faces. On assembly, metal to metal contact of the flange faces is achieved. They can only be used in API 6BX flanges. BX is used at pressures up to 15,000 psi. Standard sizes are stocked in low carbon steel, 304 and 316.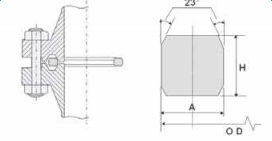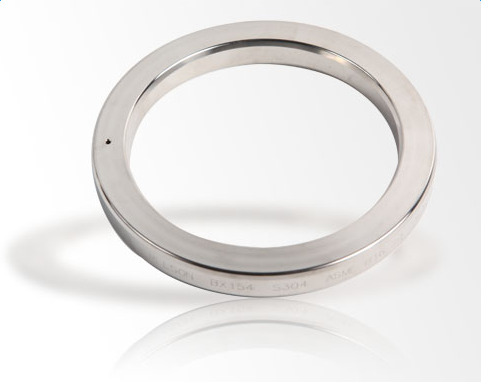 Material of RTJ
Material

Maximum hardness

Temperature(℃)

Abbreviations

Brinell

Rockwell"B"Grade

Soft Iron

90

56

-60~500

D

Low Carbon Steel

120

68

-40~540

S

SS304

160

83

-250~540

304

SS304L

160

83

-250~540

304L

SS316

160

83

-200~815

316

SS316L

160

83

-200~815

316L

SS321

160

83

-200~870

321

SS347

160

83

-200~870

347

SS410

170

86

-40~850

410

5Cr-0.5Mo

130




-29~650




Copper

80




-100~315




Aluminum

35




-200~425




Inconel 600

150




-100~1095




Incoloy 825

150




-100~1095




Monel 400

150




-100~760




Titanium

215




-200~540




Nickel 200

110




200~760




Hastelloy B2

230




-100~1095




Hastelloy C276

210




-100~1095