Spiral wound gasket with graphite ,PTFE, Mica filler
Spiral wound gasket are special semi-metallic gasket of great resilience, therefore they are very suitable for applications featuring heavy operating conditions. Spiral wound gasket are produced in several styles and combination of materials to fit the most stringent application. Filler is the main body of the gasket and different material like graphite ,PTFE, Mica , ceramic, Non Asbestos, etc, is suitable for different circumstance.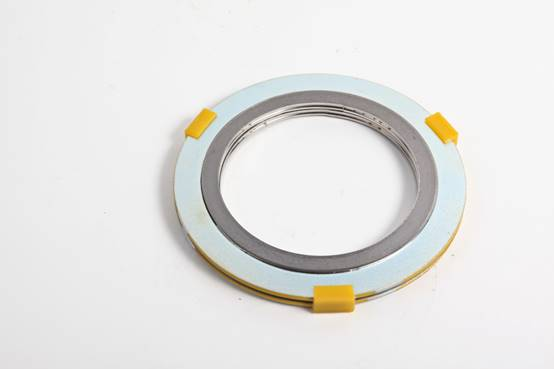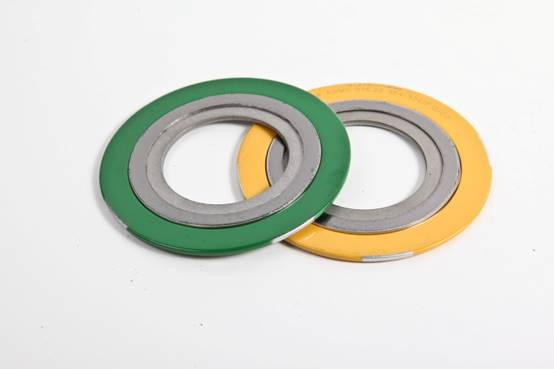 Following is the temperature limits for materials:
Filler

Lower Limit

°F °C

Upper Limit

°F °C

Abbreviation

Ceramic

-350

-212

2000

1100

CER

Flexible Graphite

-350

-212

1000

550

F.G

PTFE

-400

-240

490

250

PTFE

Non Asbestos

-184

-120

750

400

TNA
Flexible graphite has been carefully researched and developed to meet industry's demand for a superior alternative to asbestos filler in spiral wound gaskets. Flexible graphite provides performance that is superior to asbestos, and has been field proven through year of actual service in critical applications throughout the world.
Flexible graphite is pure graphite and is manufactured without the use of filters, resins or binders that could deteriorate at elevated temperature.
PTFE : If PTFE is subjected to temperatures above 250 composition starts to occur slowly, increasing rapidly above 400.Care should be taken to avoid inhaling the resultant fumes, which may produce unpleasant effects.
More information, please contact with us.
Related products:
Spiral Wound Gaskets with graphite filler, Spiral Wound Gaskets with PTFE filler, Spiral Wound Gaskets with mica filler, Spiral Wound Gaskets with ceramic filler, Spiral Wound Gaskets with non asbestos filler