Title:Ceramic Fiber Rope
Ceramic Fiber Rope
Ceramic fiber is standout among the different organic and inorganic fibers as ideal replacement of asbestos. The packings are made from high quality ceramic fiber, it has excellent capabilities of high strength and high temperature resistance.RILSON specialized manufacturer on Ceramic Fiber Braided Square and Round Rope and Twist Rope,Ceramic fiber lagging rope,Ceramic fiber sleeving.
Ceramic Fiber Square and Round Rope
Ceramic Fiber Rope braided by ceramic fiber yarns and used as heat insulation materials and an excellent substitute for asbestos rope. Normal for stove, burner, heat exchanger, chimney door sealing.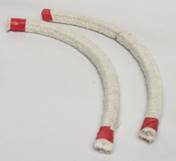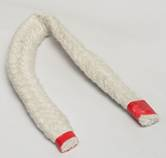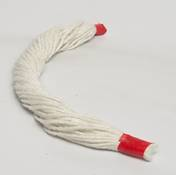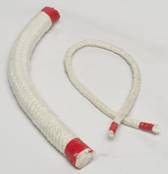 Ceramic Fiber square Rope
Size: 6mm x 6mm to 50mm x 50mm
Working temperature: 800℃~1400℃
Ceramic Fiber round Rope
Size: 6mm to 50mm
Working temperature: 800℃~1400℃
Ceramic Fiber Rope specification
Range of Ceramic Fiber Ropes
Code

Name

Application

Style

Temp℃

Images

RSIP-3-1

Ceramic fiber square rope

Normal for stove, burner, heat exchanger, kiln car, chimney door sealing, etc

RSIP-3-1s:Fiberglass reinforcement
RSIP-3-1f: Wire reinforcement

650~1260

RSIP-3-2

Twisted Ceramic fiber rope

Used in Expansion joints, seals for stoves and ovens, also as bulbs in tadpole tapes, etc

RSIP-3-2s:Fiberglass reinforcement
RSIP-3-2f:Wire reinforcement

650~1260

RSIP-3-3

Ceramic fiber round rope

For high temperature resistant electrical cable, wire covering and pipe wrapping, etc

RSIP-3-3s::Fiberglass reinforcement
RSIP-3-3f:Wire reinforcement

650~1260

RSIP-3-4

Ceramic fiber lagging rope

It is an excellent substitute for asbestos tape, thermal insulation and sealing for stove, burner, chimney door sealing, seal for heat exchanger, kiln car, etc

RSIP-3-4s:open

RSIP-3-4f: close

(outside mesh)

650~1260







RSIP-3-5

Ceramic fiber sleeving

Used in high temperature resistant electrical cable, wire covering, high temperature pipe wrapping.

RSIP-3-5s:

Fiberglass reinforcement
RSIP-3-5f:Wire reinforcement

650~1260