Title:Heat insulation Ceramic Fiber Cloth
Heat insulation Ceramic Fiber Cloth
Ceramic fiber cloth weaved from ceramic fiber yarn.It is featured with heat insulation and high temperature protective materials in all kind of thermal insulation and heat-conducting system. The ceramic fiber contain a certain amount of binder materials. Has high mechanical strength, low thermal conductivity.
Heat insulation Ceramic Fiber Cloth/Ceramic Fiber Cloth with Aluminum
RILSON is a specialized manufacturer on ceramic fiber cloth, ceramic fiber cloth with aluminium. It is used as heat insulating materials and an excellent substitute for asbestos cloth.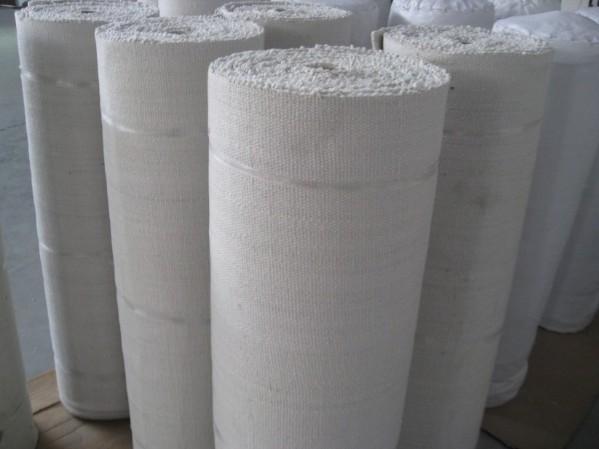 Thickness:1.5mm to 5mm
Width: 1000mm
Working temperature:800℃~1400℃
Ceramic Fiber Cloth specifications
| | | | | | |
| --- | --- | --- | --- | --- | --- |
| Code | Name | Application | Style | Temp℃ | Images |
| RSIP-201 | Heat Insulation Ceramic Fiber Cloth | Used as heat insulation curtain, large area thermal insulation. Radiant heat shielding, flexible fabric expansion joints. | RSIP-201 Ceramic fiber cloth with metallic wire (Inconel or stainless steel) | 650~1260 | |
| RSIP-202 | Alumina silicate ceramic fiber cloth | Used as the export equipment packing materials for moisture barrier, water-proof, fire-retarding and anti-corrosion.Used as the thermal insulation material on Roof,wall,floor,tank,vessel,air conditioner,tank,heat supply pipes,etc | RSIP-202 Ceramic fiber cloth with metallic wire and aluminium silicate coating | 650~1260 | |