Title :Tanged Metal ,Metal Mesh,Foil Reinforced Graphite Gaskets
Tanged Metal ,Metal Mesh,Foil Reinforced Graphite Gaskets
It is made from graphite as homogeneous, reinforced by metal mesh,foil or tanged metal.Laminated from compressed layers of purified natural graphite flake,and mechanically bonded with the stainless steel tangs,ensures the material retains dimensional stability in high temperature. In addition the material seals easily under moderate bolt loads offering torque retention through service and sealing tightly even during pressure fluctuations.Reinforced graphite gasket offers excellent sealing capabilities such as thermal stability,self-lubrication,corrosion resistance,without being brittle and aging etc.,under extreme conditions with a longer life and less maintenance.It offers a high level of resistance to aggressive chemicals and its ability to withstand high pressure and extreme temperature ,up to650℃ in steam,makes it ideal for a wide range of applications.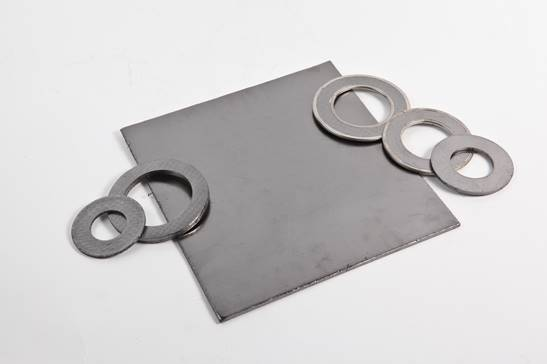 Prime features
1.high and low temperature resistance.
2.Excellent corrosion resistance.
3.Good self-lubrication
4.Sealed well with sufficient floating performance even if the graphite cracks.
Specification and application
Working temperature

-200℃-650℃

Working pressure

6.4-10.0Mpa

Min.Pre-tightening specific pressure

y=30Mpa

Gasket coefficient

m=2

Max machine size

~2100mm

Application

All kinds of circular,complicated geometric gasket are widely used in pipe,valve,pump,pressure vessel,thermal exchanger,condenser,engine,air compressor,exhaust tube,refrigerating machine, etc.

Reinforced material

Pressure

Compressibility

Recovery

Tanged carbon steel gasket

≥48N/MM2

30~35%

15~20%

SS304/SS316 tanged gasket

≥48N/MM2

30~35%

15~30%

ss304/ss316 flat gasket

≥48N/MM2

30~40%

10~15%

ss304/ss316 mesh sheet

≥48N/MM2

40~50%

15~20%

Reinforced material

Gas permeability(cm³/min)(t=1.5mm)

Sealing quality

(t=1.5mm)

Sealing constant

N2 m1/hr

Bumming Oil A

m1/hr

"M"

"Y"

Tanged carbon steel gasket

≤0.8

30

<0.5

3.0

9000

SS304/SS316 tanged gasket

≤0.8

60

<0.5

2.5

4000

ss304/ss316 flat gasket

≤0.4

35

<0.5

2.0

900

ss304/ss316 mesh sheet

≥0.1

70

<0.5

3.0

5000